Thursday 19th, February, 2015
Half‐Term Week and Darth Vader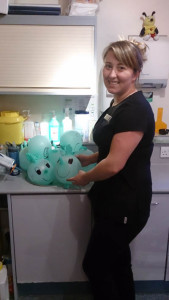 So…. I hope everyone had a good Valentines weekend.
We had another week practice so I thought I would write a blog of what's been happening:
• Its half-term week so we have had lots of children at the practice. My super nurse Leanne has been busy making balloon models for everyone who has come to see us. Check out the photo to see her hard at work.
• The big refurbishment is moving onwards. We were cleaning the cellar out this week and had the plumber in doing a few bits. Chris is doing an awesome job overseeing the whole project. She is a super organised and runs a tight ship a bit like Darth Vader.
• I am off to the FastBraces advanced techniques course this Sunday. There are lecturers from America coming over who will be teaching all of the latest techniques. Very exciting. I will let you all know how it goes next week.
• Its Anne (our fantastic hygienist) birthday next Friday. She doesn't like anybody making a fuss over her birthday but as she is so spectacular we feel she should spoilt so I will buying her an enormous cake. If you are seeing her next week feel free to wish her a Happy Birthday!
Have a great week
Indy "I didn't kill Lucy Beale" Singh
Back to Blog