Wednesday 23rd, April, 2014
Race For Life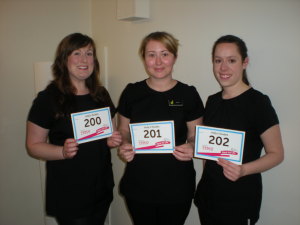 We are delighted to announce that three of our fantastic team are taking part in The Race For Life this year! Mel, Amanda & Leanne will be running 10K (just over 6 miles) in aid of Cancer Research UK on the 22nd June at Nowton Park in Bury St Edmunds.
This is a huge challenge for them (they are most definitely not runners by nature – walking up two flights of stairs to the upstairs loo usually results in some serious grumbling!) and they really are pushing themselves by taking part.
They have chosen to run the Race for Life because they want to contribute to the amazing work Cancer Research does every single day. They have set themselves a minimum target of £300 and hope to exceed this.
If you would like to make a donation to support them and Cancer Research UK please visit www.justgiving.com/Cathedral-Dental-Practice where you can donate online, or pop into the practice and drop whatever you would like to spare into the fundraising tin. Every single penny is appreciated.
Thank you!
All of the team at Cathedral Dental
Back to Blog