Wednesday 2nd, March, 2022
TOP 10 Invisalign Hacks, Bury St Edmunds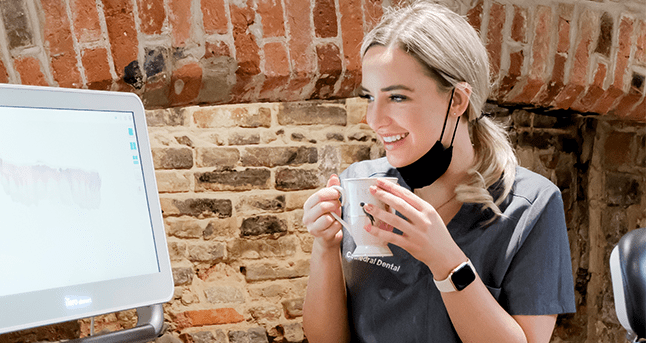 1- Your Invisalign case is your FRIEND – keep it in your handbag, pocket, hand, your shoe if you have to! There is nothing worse than going out for a meal, forgetting your case, you wrap your aligners in a tissue and next thing you know you're digging through the bin at the end of the night looking for them because the waitress threw them away! Its not fun, trust me I've been there…
2- NEW Invisalign aligner before bed- change your Invisalign aligners just before you go to bed, you can get slight discomfort with a new aligner but it's pretty low grade so you'll sleep through it, it's also best to start moving your teeth into their new position for an undisrupted period of time… it's better to have your new aligner in 8 hours straight vs. In and out throughout the day.
3- DON'T chew gum but DO chew gum- okay so don't ever chew chewing gum with your Invisalign aligners in, it will end really badly, however …. If you are out and you can't get to a bathroom after a meal/coffee a piece of sugar free chewing gum can be really useful. Chew it for 10-15 mins and then pop your aligner back in, It will help get rid of any plaque and food debris and also neutralise any acid in your mouth (which causes tooth decay). It HAS to be sugar free, no Hubba Bubba!
4- Nail file – Invest in a new and clean nail file. Sometimes new Invisalign aligners can come with unexpected sharp spots that not only cut your tongue and mouth but it feels really annoying! File that sharp spot very gently down and you're good to go!
5- Matte lipstick- A lot of people seem to think that once they start Invisalign, they have to give up lipstick. This is not true, I find matte lipsticks work best and ensure your lips are set and dry before you make any mouth movements (smiling immediately after application can leave a mark on your aligner). Not to worry, when it does, it comes off easily.
6- Keep your aligner Chewie in your Invisalign case! Chewing on these will help your Invisalign aligners fit better, eliminate any air gaps and help your teeth move faster! 
7- Keep up to date with your dental monitoring scans! This will make your treatment run smoother and ensure your teeth are tracking.
8- ORAL HYGIENE – a really important one guys! Wearing Invisalign can attract more plaque and bacteria so its really important to keep everything super clean. Invest in a good electric toothbrush and make sure you are having a brush after meals. I would also say it's a really good idea to see one of our hygienists before your Invisalign treatment starts and they can go through some really useful oral hygiene tips.
9- Painkillers- Everyone is slightly different when it comes to finding Invisalign uncomfortable. If you do get some aching and discomfort (it is normal so don't worry) take a couple of paracetamol and that will take the edge off!
10- S M I L E – all day and don't be afraid to show off your beautiful teeth and talk about Invisalign to others. Teeth straightening has come a really long way, it's amazing!
Hope you guys find this useful, remember that most of the team have had Invisalign so if you ever have any questions during your treatment don't hesitate to reach out to one of us! 🙂
Danah xx
Back to Blog