At Cathedral Dental, our team are dedicated to and passionate about helping our patients look and feel great, which is why we offer dermal fillers.
Dermal fillers are designed to help rejuvenate the skin, leaving it looking tighter and more taught while helping to improve elasticity and reducing some of the most common signs of ageing.
How does it work?
This non-surgical, injectable treatment uses hyaluronic acid to reinvigorate and rehydrate the skin. At a consultation with us here at the practice, we'll go through which areas of the face and neck you'd like to focus on before targeting them with this super-hydrator.
What is hyaluronic acid?
Hyaluronic acid is a naturally occurring substance that the skin produces on its own. However, as we age, we start to produce less of it, which can lead to the appearance of fine lines and wrinkles, as well as crepey-looking skin. It is a common ingredient in skincare products such as serums and moisturisers, but for a real boost, dermal fillers provide next-level results.
Dermal fillers can be applied anywhere on the face and neck. We'll go through your target areas with you at a skin consultation, but some of the most popular areas to target include around the eyes, nose, and mouth. They can also be used to help add volume and plumpness to the areas around the cheek, chin, and jawline.
How long is the treatment?
This is a fast and fast-acting treatment that usually takes just 30 minutes in the chair, leaving you to return to your day with fresher, revitalized-looking skin.
How long do the results take to be noticeable?
Some of our patients have reported noticing the difference even before they leave the practice, but in most cases, you'll notice the difference within a couple of days.
How long do the results last?
The results from dermal fillers should last for 6-18 months.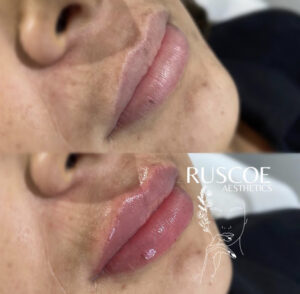 Back to Facial Aesthetics