Tuesday 7th, February, 2017
Valentine's Day, Root Canal Treatment and No Sugar.
So…….. I thought I would do a written blog as it has been a while since we have done one. Also you guys are probably tired of seeing my ugly face on camera. Saying that my skin is looking spectacular at the moment thanks to the ZO Radical Night Repair I am using. It really is amazing stuff so why don't you guys book in a consultation with Danah to find out more.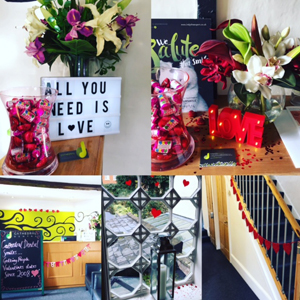 What else has been happening this week…
As you can see from the photos we have finished decorating for Valentines day. We are all feeling the love and the whole practice is looking very romantic. If you are passing by then feel free to pop in and have a look around. You can even have some Valentine chocolates or sweets.
I have also been particular chipper this week as my beloved Watford FC beat Arsenal on Tuesday. I am very happy indeed. You get very few happy moments being a Watford fan so I am enjoying this rare occurrence as much as possible.
Anil is now accepting root canal treatment referrals at the practice. So, if you are a dentist and want to take advantage of this then please feel free to contact us. You can even refer online via our website.
In my bid to be healthy I have decided to have a sugar free February. So, no cakes, biscuits, sweets or chocolate for me at all. It has been okay so far and I haven't cracked as yet. I will keep you guys posted on my progress. The rest of the team are also starting a new health regime (well some of them are). The staff room is full of packets of flax seed, rye bread and fruit. I am not sure how long this will last but I am very impressed with their efforts so far.
Have a good week and keep a watch out for our Surgery Insider Valentine Vlog next week. It will be epic.
Indy "Mr Loverman" Singh
Back to Blog