Fastbraces®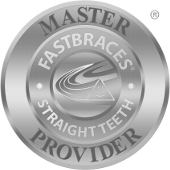 Dr.Inderjit Singh
a proud Fastbraces® provider:
braces technology that is fast,
safe and affordable.
How does it work so Fast?
Only 1 wire is used in the treatment, unlike traditional brace systems which use 3-4 or may be more wires. The design of Fastbraces® allows for the gentle movement of teeth toward their final positron from the beginning of treatment and most cases are finished in 3-10 months depending on the individual's teeth. Nearly all cases are completed NON EXTRACTION, i.e., we do not take teeth out.
Because they are fast, are they safe?
The technology has been used in the US for over 20 years, with scientific research in hundreds of well respected orthodontic literature. There are thousands upon thousands of very happy patients which have benefited by Fastbraces® treatment. There are no different risks or any more risks compared to old traditional braces. In fact because the brackets are on the teeth for shorter period of time there is less chance for tooth decay and gum problems to occur.
Why are they so easy?
The brace system is completed in sections to allow the teeth's roots and crown to move very gently, hence with the least amount of discomfort and changes to your lifestyle. The brackets are small and very comfortable for the lips and bite. We can also get tooth coloured brackets which are barely visible. Appointments are typically every 5 weeks and most cases are finished in 5-10 visits. It is not uncommon that mild cases can be finished in 1 visit! Fastbraces® technology moves the roots into the ideal position and providing the most aesthetic and beautiful finish for your new smile.
Why are they more affordable?
Because of the faster movement of the teeth, less visits 5-10, and just 1 wire technology means less surgery time. This means fees are much more affordable compared to 2-3 years of traditional braces. Each case will be assessed and fees given accordingly.
How do I know if I am suitable?
This complete orthodontic system is suitable for Cosmetic Orthodontics for adults, full orthodontics for children and adults. It is for all types of teeth straightening and after an assessment by Indy, we can let you know if you are suitable.
What's even better about Fastbraces®?
With the complete alignment of the roots of the teeth, you will only need to wear a retainer for 20 minutes per day. With other brace systems you need to wear retainers during the day for months after treatment. This unique point makes Fastbraces® the ultimate new revolution in teeth straightening and orthodontics in the world.
So in summary why should I choose Fastbraces®?
Fastbraces® are Fast, Safe, Easy and Affordable! The technology has been developed and tested over the last 20 years. The design allows for the gentle movement of the roots of the teeth towards their final position from the beginning of treatment and treatment only takes 3-10 months. It's more affordable as it requires fewer visits to the dentist giving you more time to enjoy the things you love.
If you would like straight teeth in a fraction of the time, and would like a more affordable treatment option, contact us for a free consultation.
Amazing Lifetime Guarantee
You also get a lifetime guarantee with Fastbraces®! If, in the future, you ever need to have your treatment done again then you don't have to pay for it!. Watch the video above to find out more.